Single particle counting is a laser optical measuring method. A laser beam illuminates the entire profile area of a flow through measuring cell and is captured by a detection cell. Each particle contained in the liquid absorbs and reflects the light from the laser beam. This enables the number and size of the particles in the liquid to be determined by a detector. The two principle methods of optical particle counting are the principle of light extinction, which is used by the PAMAS HCB-LD and HX sensor series, and the principle of light scattering, upon which the PAMAS SLS-25/25 sensor is based.
a) The principle of light extinction
Regarding the principle of light extinction, the laser light illuminating the liquid directly reaches a photodiode. Particles present in the liquid interrupt the laser beam when passing the measuring cell and cast a shadow on the photodiode, which is detected as a change in current. The number and strength of the signals are translated to particle numbers in various size channels using a calibration curve. With this measuring principle, single particles with a minimum size of 1 µm can be detected.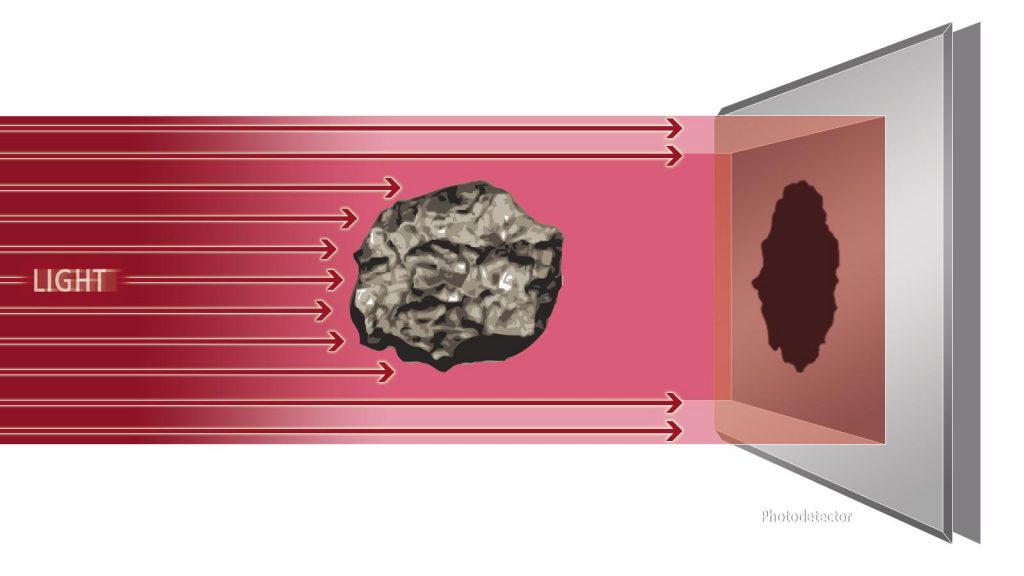 b) The principle of light scattering
The smaller the particles to be measured are, the lower the light extinction signals created. Below 1µm, the signals are too low that a reliable measurement with a light extinction sensor is no longer possible. For this reason, the light scattering principle is applied. In contrast to the light extinction principle, a photodiode detects the light scattered by the particle as a change in current. This signal is proportional to the size of the measured particle. The detector only collects the scattered light. The intensive laser beam gets absorbed by a light trap.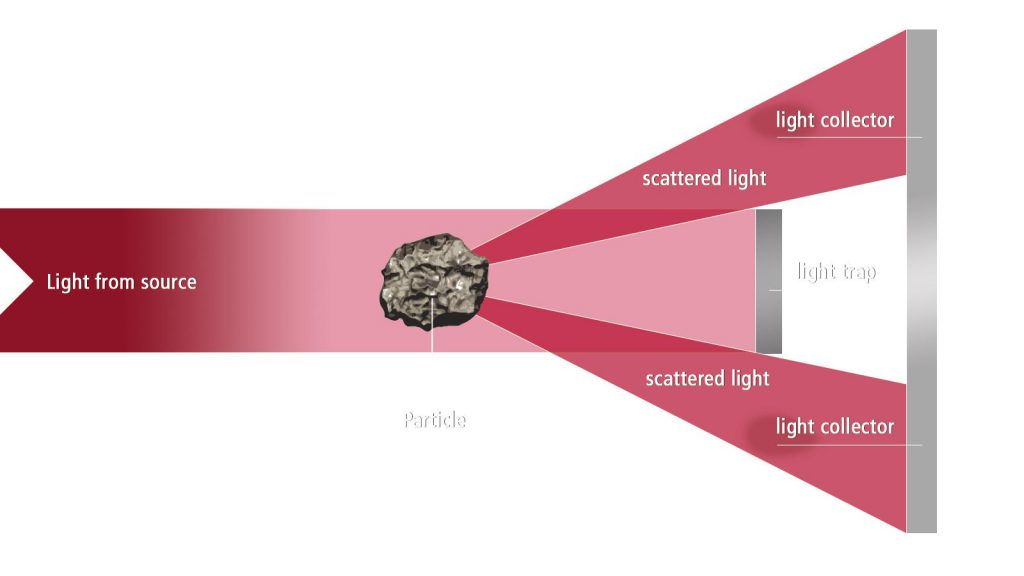 The sensors can be determined depending on the size of the particles that are to be measured. To achieve reliable and accurate measurement results, the particles must pass the measuring cell individually, thus preventing overlapping which would result in two or more small particles to be counted as one large particle. This is known as coincidence error. Coincidence error occurs quicker when it comes to larger particle sizes. This is why the maximum measurable particle concentration is much higher for sensors with small profiles.
© Image by Johannes Plenio from Pexels